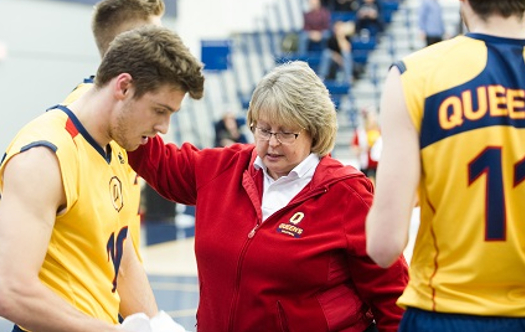 In this episode, Frank & Thierry welcome former Queen's University men's volleyball Head Coach Brenda Willis to discuss various topics including the International Coaching Symposium, athlete development, recruitment and coaching tips.
(2:05) - What does VNL mean for Ottawa and the volleyball community?
(3:10) - How was the International Coaching Symposium concept developed?
(4:50) - How was the impressive list of international coaches presenting at the symposium gathered?
(6:20) - Brenda's bio
(6:58) - How is being a tactical player a great starting point to developing a great coaching mind?
(8:25) - What brought coach Willis into coaching?
(9:25) - How did Brenda end up coaching boys?
(12:05) - How did coach Willis turned the men's volleyball program around quickly early in her Queen's University career?
(12:46) - Who were Brenda's mentors?
(17:15) - How important is it to always be a student of the game?
(18:05) - What is the most significant achievement of coach Willis' stellar career?
(20:10) - What does being a female coach role model represent for Brenda? 
(21:45) - What is the importance of having a why for doing something?
(23:50) - What would Brenda do differently if she had to start her coaching career again?
(28:00) - What is Brenda's coaching philosophy?
(30:00) - Why does coach Willis remain so involved in the volleyball community?
(33:05) - What is the biggest weakness rookie athletes demonstrate often upon arrival in a university program?
(36:29) - What can a club coach do to improve the athlete's ball control capacities?
(37:45) - What can a club do to help athletes prepare better for the physical demands of a long USports season?
(39:00) - What should a club athlete be doing in the off season ideally?
(43:25) - What are some of the off court weaknesses athletes need to focus on?
(44:50) - How does coach Willis observe some of the off court behaviours?
(45:45) - What does Brenda look for in athletes when recruiting?
(47:50) - How can a club coach help the athletes develop their character and life skills?
(49:42) - What are the three main coaching tips coach Willis has for club coaches?
(53:50) - Why is it so important to play all your players?
(57:28) - Why should a coach never reward poor performance?