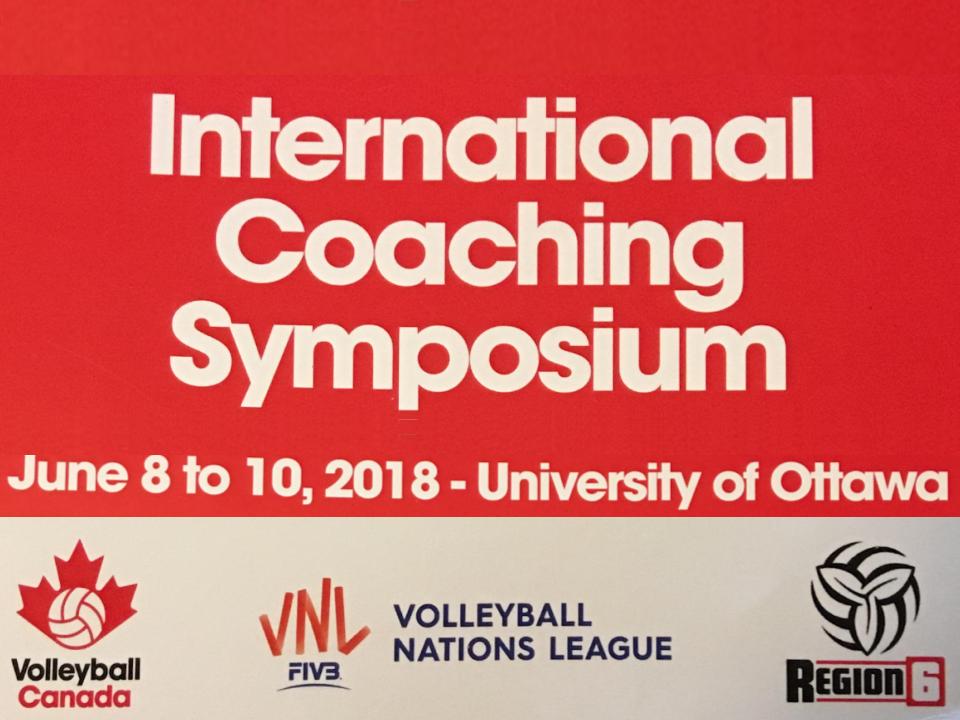 In this guestless 
episode
, Frank & Thierry discuss their highlights of the International Coaching Symposium that was delivered in conjunction with the VNL stop in Ottawa on June 8-10, 2018.
(1:00) - Preview on upcoming episodes recorded during the International Coaching Symposium
(1:50) - The Volleyball Nations League and the International Coaching Symposium attracted a large portion of the canadian coaching community
(3:40) - What was Thierry's biggest highlight of the symposium?
(4:58) - Take a moment to watch some of John Kessel's videos. 
(5:10) - Create a culture of play
(6:10) - Random drills enhance learning and transfer better to the game
(6:30) - Use of the court without use of the net is prohibited
(7:40) - What is the white ribbon trick?
(8:30) - A few of John Kessel's favorite drills are explained
(11:25) - How do you provide feedback in a John Kessel drill?
(13:06) - What was Frank's biggest highlight of the symposium?
(13:42) - Why is John Speraw a great speaker?
(15:32) - What was Team USA's Rio experience and what can we learn from that experience?
(16:12) - Why does Speraw believe in intergrated sport psychology?
(17:12) - Kyle Paquette's resource, 
Trainwave
, is a great solution to intergrated mental training.
(17:26) - What statistics are particularly important for coach Speraw?
(19:02) - Why Thierry really enjoyed Alix Krahn's session on Sport Culture?
(20:22) - What are the pillars of trust?
(22:02) - Why is focusing on relationship building so important? 
(22:17) - Brené Brown is a great resource on this topic
(22:39) - Why did many MVC coaches enjoyed LP Mainville's session?
(25:17) - Why Thierry enjoyed Larry McKay's session on in match adjustments?
(26:22) - Why in game management needs to be simple and based on facts like statistics?
(27:27) - What statistics are particularly important for coach McKay?
(29:42) - Who should gather the data?
(30:22) - Why Frank's favorite moment of the weekend revolved around Glenn Hoag and his session on match planning?
(32:02) - The OVA will attempt to transform every symposium session into a webinar and make them available on their website.
(32:11) - Why coach Hoag still does a personal pen and paper scouting method to prepare a game plan?
(33:41) - How Glenn Hoag simplifies the block defence relationship on court?
(34:24) - How did Frank's session on individual defence turn out?
(38:56) - What was the highlight of the MVC coaches who attended the symposium?
 (43:21) - Any suggestions on how to improve the symposium if we were to host another one next year?
(48:16) - What would you like to hear about on the podcast?
(48:51) - What Mark Matheson would like to hear on future pods?
(51:31) - What Gerry DiGirolamo would like to hear on future pods?
(53:16) - Please provide feedback via FTFC@maverickvolleyball.ca