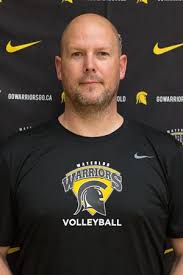 In this 
episode
, Frank & Thierry welcome Waterloo Warriors Men's Head Coach and Junior National Team Assistant Coach Shayne White to discuss high performance coaching, data driven planning, athlete profiling and more. 
(1:00) - How is training going with the Junior National Team that is preparing for the U21 World Championships?
(1:44) - What is Shayne working on personally to become a better coach?
(3:34) - What did coach White learn from coach Joao Bravo, given his extensive volleyball background?
(5:25) - Is trying to execute simply but very efficiently the present trend in volleyball?
(7:20) - Did Shayne value sound fundamentals as an athlete too?
(8:40) - Did footwork skills transfer well from soccer to volleyball?
(10:00) - Should the indoor club season start later?
(14:30) - How did Shayne start his coaching career?
(17:15) - When did coach White come to the Ontario Volleyball scene?
(18:53) - What were some of the first lessons learned at the university level as a coach?
(21:49) - Does coach White have a scientific or mathematical degree that pushed him to use an analytical approach to make decisions?
(22:40) - What are some lessons learned from assisting Chris Lawson for seven years?
(26:00) - Why did Shayne take on a indoor development role with the OVA?
(27:44) - How did his work with the OVA change his coaching style?
(29:55) - As a former Canada Games Head Coach, what advice do coach White have for the next candidate?
(34:17) - How did Shayne's seasonal planning evolve over the years?
(36:50) - What are some specific examples of shifting focus from winning first to athlete development first?
(41:20) - How can a 14U coach incorporate load management in his or her planning?
(44:50) - How does coach White individualize his planning to provide maximal help to each athlete?
(49:10) - How can a club coach profile his or her athletes to maximize development and long term success?
(55:58) - What are the statistics that are particularly important for Shayne? How are they tracked and how are they utilized?
(61:55) - How does coach White design drills initiated by a poor passes?
(63:50) - What is different for the athletes when they are training to defend versus a 1 pass or a 2 pass?
(66:00) - How is cue reading trained particularly with middles in regard to defending against a perfect pass?
(68:15) - When and how are post-game stats shared with the athletes?
(70:40) - Are any stats shared with the athletes during a match?