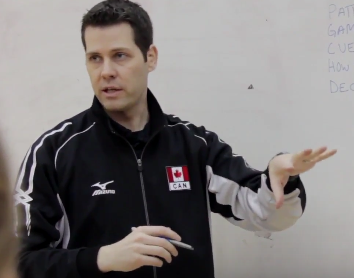 In this 
episode
, Frank & Thierry welcome Volleyball Canada's Director for Athlete and Coach Pathways James Sneddon to discuss coaching certification, Smashball, Safe Sport, a club recognition program and Women's National Excellence Program. 
(1:05) - James' bio
(1:20) - What pushed James to pursue volleyball at a very young age?
(2:45) - What position did James play?
(3:25) - How did James' education background help him progress in his volleyball endeavours?
(4:01) - At what stage in his playing career did coach Sneddon know he was eventually going to coach?
(5:20) - What are some lessons that coaching at Capilano College taught James?
(7:40) - What does his role at Volleyball Canada as a Manager of Sport Development entail?
(9:00) - Why was the change in the coaching certification pathway such a big undertaking?
(12:50) - How can the online information on coaching certification be more intuitive and perhaps only be on one website?
(16:45) - What is Smashball and how has it grown quickly?
(22:00) - How is Volleyball Canada trying to make Smashball more accessible to schools and clubs?
(24:10) - Could there eventually be some Smashball competitions?
(25:05) - Is volleyball growing in Canada presently?
(26:03) - What is Volleyball Canada developing presently in regards to Safe Sport?
(30:30) - How can a badge system perhaps stimulate a higher quality club program delivery?
(32:33) - Why will the badge recognition system be more successful than the accreditation process?
(34:44) - When will this club approval model likely be put in place?
(35:45) - What aspects do clubs tend to be good and not so good at when it comes to being accredited or recognized?
(38:45) - What is the Women's National Excellence Program that will be inaugurated in 2020?
(42:18) - How will the athletes selected for this program be identified?
(44:20) - Would it be possible to have a professional league in Canada or North America?