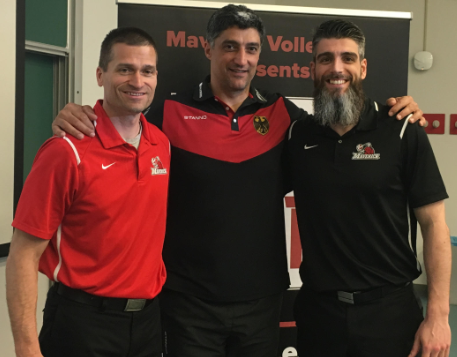 In this 
episode
, Frank & Thierry welcome Team Germany's Head Coach Andrea Giani to discuss his legendary career,  transitioning from middle blocker to wing spiker, sideout offense and much more. 
(1:33) - Please share any volleyball resources you like on Twitter, Facebook or Instagram @FTFCpodcast or via email ftfc@maverickvolleyball.ca
(2:51) - Andrea's bio
(6:36) - According to John Barrett, why is Andrea's character such an integral part to his success as an athlete and a coach?
(8:18) - How did Andrea successfully transition from middle blocker to left side at the highest level?
(12:19) - Did Andrea prefer playing middle blocker or left side?
(13:39) - Does coach Giani believe it would still be possible to switch position at the international level today given the more specialized nature of the game?
(14:52) - Why was Andrea so effective at siding out as a wing spiker?
(19:57) - What kind of goals in regards to sideout does coach Giani set for his team?
(23:30) - Why is coach Giani concerned with overall sideout efficiency compared to first ball sideout percentage on good receptions?
(24:23) - How can Team Germany close the gap between overall sideout efficiency and first ball sideout percentage?
(26:45) - What is the desired first ball sideout percentage according to coach Giani?
(28:25) - Is the sideout efficiency usually higher receiving float serves or spin serves?
(30:20) - How do the sideout statistics influence Andrea to develop his offensive system and individual objectives?
(34:28) - Does coach Giani share these numbers with his athletes?
(36:40) - With the VNL format, is there time to make adjustments between matches?
(38:03) - What are specific technical points coach looks for when receiving float serves?
(40:40) - How does Andrea manage momentum in games within the sideout offense context, and more specifically in regards to problematic rotations?
(43:30) - Why does coach Giani deeply value responsability and accountability of each player on the court?
(51:30) - What topics are discussed with the setter when preparing a game plan for a match?
(55:10) - How does coach Giani train serve receive, setter decision making and transition offense in practice?
(59:11) - What challenges will Team Canada present to Team Germany tonight in regards to sideout?