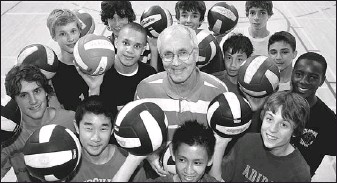 In this
episode
, Frank & Thierry welcome 2019 Ottawa Sports Hall of Fame Inductee in the builder category Rick Desclouds to discuss how he built a legendary program at Glashan Public School, why developing great human beings is the primary goal and much more.
(0:49) - Rick's bio
(1:30) - Why did coach Desclouds particularly enjoy teaching at Glashan Public School (GPS)?
(3:15) - Why did Rick gravitate particularly to volleyball, cross country and track & field?
(4:38) - How did coach Desclouds, a multisport athlete (excluding volleyball), become an iconic volleyball coach in Ottawa?
(8:20) - Why being humble and vunerable as a rookie coach are great learning traits?
(12:10) - Why is "open gym" such a big piece in the Glashan Spikers success?
(13:37) - Why are no students cut from the competitive teams at GPS?
(19:10) - What is the common denominator amongst the greatist athletes Rick has coached?
(26:24) - How did coach Desclouds also develop a baseball powerhouse?
(29:13) - Why does Rick particularly value placing strong athletes with similarly aged peers?
(31:25) - How is coach Desclouds so motivated to drive multiple teams at school and in the community year round?
(34:40) - What is the structure of the "open gym" at GPS that makes it so successful?
(37:00) - What is the elimination game played every Friday afternoon?
(38:33) - How does the lunch hour house league function at GPS?
(43:06) - What are some key principles that coach Desclouds lives by to develop his volleyball athletes?
(52:20) - Which system does Rick prefer to use with his school teams?