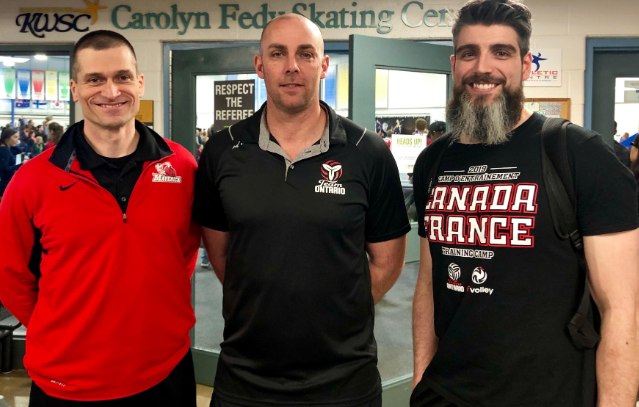 In this 
episode
, Frank & Thierry welcome Brock University women's volleyball Head Coach Steve Delaney to discuss his rookie season in the OUA, growth mindset, serving & hitting philosophies and much more.
(2:07) - Steve's bio
(2:40) - How did Steve begin his club volleyball career?
(3:48) - What memorable moment does Steve have to share about playing alongside Dan Lewis?
(6:09) - Why was Steve's beach nick name Stone Cold Steve Delaney?
(7:08) - Which wrestler's autobiography does coach Delaney recommend?
(8:35) - What is the game plan when Steve and his beach partner face off versus Karch Kiraly on the AVP beach tour?
(9:50) - What has his time on the AVP tour taught Steve?
(12:48) - Why did coach Delaney get into coaching?
(14:00) - What is Steve's proudest moment and something he would do differently in his first year of club coaching?
(15:50) - What are some differences between Canadian and American volleyball clubs?
(18:15) - Why does Steve coach a female club team and a male provincial team?
(20:46) - Does coach Delaney approach coaching female or male athletes differently?
(22:35) - How did Steve prepare for his Brock appointment?
(23:40) - What is coach Delaney's proudest moment and something he would do differently in his first year of OUA coaching?
(26:00) - Why is Steve now setting on the beach with his team?
(28:35) - Why did Steve finish his business degree online?
(30:00) - What can club coaches do to better prepare athletes for the OUA level?
(31:20) - How do you teach athletes to have a growth mindset, to embrace failure and to win the learning race?
(35:50) - How does a coach maintain a growth mindset himself to be a life long learner and to be a good role model for her or his athletes?
(40:22) - Who are Steve's mentors?
(41:30) - What are some lessons Steve learned through playing for Larry McKay?
(43:30) - What is something new that Steve and Frank want to implement or learn about this upcoming summer within their respective provincial program roles?
(50:00) - What statistics do coach Delaney look at particularly with OUA matches?
(59:00) - What hitting philosophy does coach Delaney preach?
(66:30) - What are three keys for success on playoffs day at provincials and nationals?