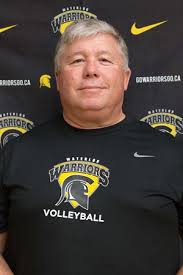 In this 
episode
, Frank & Thierry welcome former University of Waterloo  Men's Volleyball Head Coach Chris Lawson to discuss becoming a seasoned coach, practice planning, centre approach coaching and much more.
(0:27) - Check out our Twitter account 
@ftfcpodcast
 to obtain all resources from previous episodes. Don't hesitate to rate, review and subscribe on any podcast platform (
Podbean
, 
Stitcher
, 
iTunes
, 
PlayerFM
) to help us tailor our product better to your needs.
(1:23) - How is the volleyball coaching life treating Chris after retirement from the Waterloo Head Coach position?
(2:14) - Chris' bio
(3:55) - How do football skills transfer to volleyball?
(8:26) - Why did coach Lawson initially start to coach volleyball?
(9:07) - What particular characteristics of the game did Chris enjoy early on?
(10:30) - Why Bill Belichick is an excellent football coach to observe even for volleyball coaches?
(11:57) - What does coach Lawson's Pathway Coordinator role with London Volleyball Club entail?
(15:40) - Who are Chris' mentors?
(18:15) - Why it takes a lot of time to become a seasoned coach?
(21:10) - Why coaches need to continually focus on the why?
(23:10) - Why is the design down approach a great tool to use for practice planning?
(24:55) - Why should coaches share their ideas with colleagues and self-reflect more often?
(29:33) - How did coach Lawson adapt his coaching skills to the University level and turn the program around?
(34:29) - What is Chris' proudest moment as Head Coach of the Warriors' program?
(36:04) - How did coach Lawson transition from Head Coach to Mentor Coach?
(38:12) - How can quality coaching and team culture be sustained better through coach assignment?
(41:05) - Why is the centre coaching approach (or the master coach or the pod method) a great way to maximize the reach of their best coaches and encourage information sharing amonst their coaches for a club?
(43:22) - How will the game evolve in the coming years according to Chris?
(47:59) - How can development coaches obtain the useful and actual technical and tactical knowledge given the age group they are coaching?
(51:08) - What are the top three tips Chris shares with coaches attending his coach workshops?
(55:33) - What are some do's and don't's coach Lawson looks for when observing a coach running a practice?
(61:10) - What does Chris recommend for improving practice planning?
(69:54) - Why is the centre approach especially good for the club environment?
(75:52) - How can coaches with different styles or approaches collaborate together better?
(79:56) - What is the Lead Coach's responsibilities?