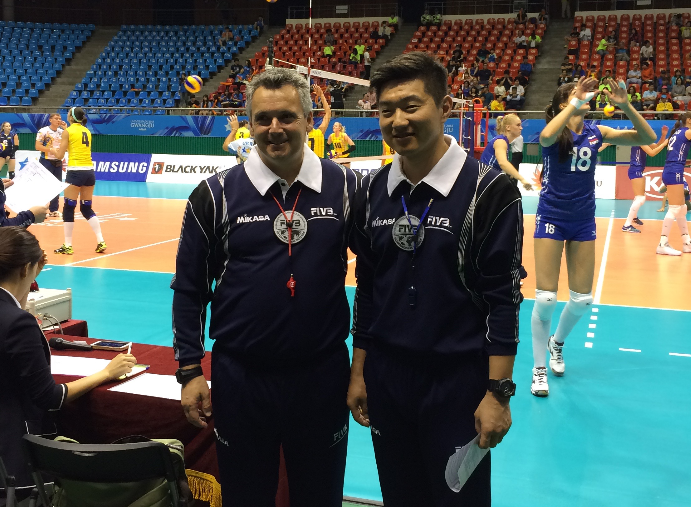 In this 
episode
, Frank & Thierry welcome retired International Referee Malcolm Mousseau to discuss intervening with the official and the rules of the game.
(0:55) - What are Thierry's and Frank's coaching highlight of 2018?
(6:25) - What are Thierry's and Frank's New Year's coaching resolutions?
(9:25) - What are your highlights from the previous year? What are your New Year's coaching resolutions?
(13:32) - Can a team keep playing if their coach is disqualified? 
(14:40) - Can a libero do a beach dig, a pokie or a tomahawk to set inside the attack zone?
(15:38) - When must the lineup be submitted to the referee between sets?
(17:10) - Does the screen rule still exist?
(17:24) - Can a player touch the ball thru the net?
(18:20) - When can a player contact the ball in the opponent's free zone?
(18:50) - Are players permitted to yell during the opponent's execution of the service?
(21:15) - Malcolm's bio
(22:10) - How can developing an artistic ability be beneficial for an athlete? 
(23:08) - What are Malcolm's thoughts on the importance of a multi-sports background?
(25:27) - Why did Malcolm get into refereeing at such a young age?
(26:55) - How did Malcolm progress so quickly though the upgrades to obtain his national badge at 24 years old?
(30:13) - What is Malcolm's refereeing philosophy?
(33:48) - What steps does an official follow to prepare for a match?
(36:30) - What process must a level 5 candidate do to obtain his or her international level upgrade?
(38:58) - Where do most of the conflicts between referees and coaches arise?
(42:10) - What evaluation process is in place for officials during major events?
(44:40) - Should there be a similar formal assessment and feedback structure in place for coaches during major events?
(45:35) - What are a few of the top tips Malcolm has to offer to club coaches?
(50:25) - How much back and forth can a captain do between the head referee and the head coach?
(52:00) - How can coaches better prepare their captain to intervene with the officials during competition?
(55:05) - How much can a coach "work" the referee and should that be allowed? 
(56:40) - Should there be interactions between the officials and the coach after the match?
(60:00) - Who is a great role model in terms of a coach having excellent coach-referee relationships?
(61:20) - What are some bad things coaches should really stop doing in regards to the officials?
(65:00) - Are there rules that coaches often get wrong?
(70:35) - What are a few tips a volunteer line judge should really follow?
(71:27) - Why don't head referees overrule the line judges more often?
(72:40) - What should a 12-14U coach do to help prepare the captain better?
(74:45) - How important is the role of mentorship for becoming the best version of yourself?